HW Staffing Launches New IT Division with Top Prospect Group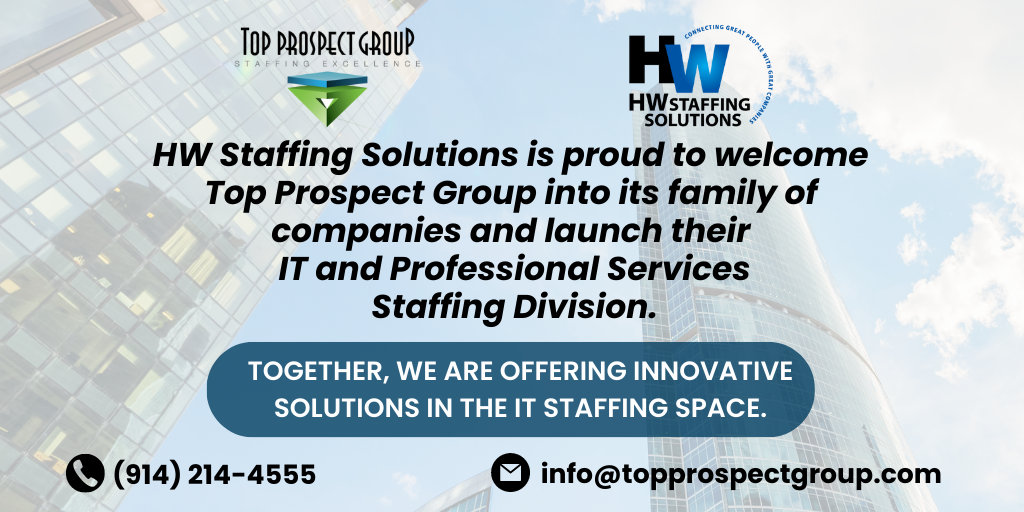 HW Staffing Solutions, a leading commercial staffing agency providing services throughout the United States, has announced the acquisition of Top Prospect Group, a professional and Information Technology staffing firm headquartered in White Plains, NY. This acquisition will allow HW Staffing Solutions to expand its offerings to clients and provide them with more comprehensive staffing services.
Founded in 2009 by Evelyn Sirena and Vincent Battipaglia, Top Prospect Group will become the newest division of HW Staffing Solutions. Specializing in providing businesses of all sizes with Information Technology Staffing solutions, the division will offer an array of IT professionals where Evelyn and Vincent will lead the division as Managing Directors.
"We are excited to welcome Top Prospect Group to the HW Staffing Solutions family," said Ed Walsh, CEO of HW Staffing Solutions. "The acquisition of Top Prospect Group will help us to provide our clients with even more comprehensive staffing solutions and give us the opportunity to expand our reach in the professional and IT staffing space."
Evelyn and Vinny, both accomplished IT Staffing Professionals with over 30 years of experience, will lead their team and leverage HW Staffing Solutions' extensive network of candidates and clients to provide businesses with top-notch staffing services. They will also use the latest technology and recruitment strategies to ensure that they find the best candidates for their clients.
"We are confident that the acquisition of Top Prospect Group and the launch of this new division will be a valuable addition to our company," said Walsh. "We look forward to helping businesses find the best talent for their needs and contributing to their success."
To learn more about Top Prospect Group and their IT staffing services, please visit their website at TopProspectGroup.com.
HW Staffing Solutions is an independently owned and operated Commercial Staffing firm providing temporary, temporary to hire, and direct hire services to clients throughout the US in Accounting and Finance, Office and Administrative, Light Industrial, Professional and Technical, Call Center, Food Processing, Healthcare, and Hospitality sectors.
Contact us today to learn more!